Great Expectations is more than a tagline, it is an attitude. At Great Northern, customer challenges are met by an undying spirit to doing what others can't or won't. It's in our DNA. And it is what our customers have come to expect with Great Northern.
Shared Future
Taking Care of
our Team Members
Great Northern's vision is to "Help our team members be at their best through opportunities for growth and a shared future." We live this vision by supporting our team in a variety of ways.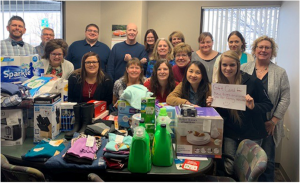 Taking Care of
our Communities
The communities in which Great Northern operates are part of our approach to a Shared Future. Learn more about the work we are doing to help improve our communities.
Great Northern is a leading developer and manufacturer of creative solutions for packaging, shipping, merchandising and distributing products for industrial, commercial and retail markets. Great Northern is headquartered in Appleton, Wisconsin, and has operations in five states.
We offer competitive compensation and benefits packages and a challenging, rewarding work environment.